Message Storage
Store realtime messages for future retrieval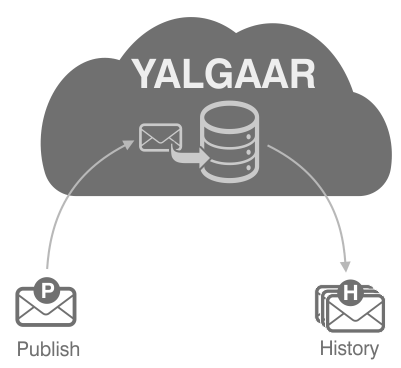 Convenience and affordability are two elements of our offerings that make us stand out. That's what reflects in the storage and retrieval feature of Yalgaar's messaging app.

This feature performs the dual task of storing real-time messages and retrieving previously published messages.

While our pricing is unequivocally the best, we also focus strongly on your convenience. A case in point is that all real-time messages are saved on Yalgaar cloud as per your request .
Hence, you can access maximum last 100 these messages anywhere and anytime with the help of our simple history API.

What's more? If you wish to retrieve more than 100 messages, contact us. There's no restriction on the length of real-time data that can be stored.

There's no restriction on the length of real-time data that can be stored. We understand that your data storage needs are as big as your aspirations, and we want to give your dreams the desired impetus.
---
The following functions make our messaging app worth your while
Real-time Data Management
All messages, stored on Yalgaar Cloud, stream with real-time data management. In other words, live events & messages can be replayed by your users, and they will be delivered in the time and order that they were originally published.
Cloud Storage
As the messages are stored on the cloud, you free up a substantial amount of space on your server. There's a clear cost saving for you. Add that to our affordable pricing, and you will be laughing all the way to the bank.
Size No Bar
As mentioned earlier, there are no restrictions on the length of real-time data that can be stored on Yalgaar cloud.
Channel-wise Tracking
Previously published messages can be tracked by channel.
---
Why Would You Care?
Collaboration - The storage and retrieval feature of Yalgaar lets developers and digital marketing agencies build collaborative apps. Users can view previous messages and data, and be able to provide further inputs on the same. Collaborative drawing app is a prime example, where users can continue drawing based on the previously created drawing lines.

Gaming - Gaming apps can benefit from storage and retrieval as they can now play back the player's moves.

Customization - Developers can customize the storage duration of the messages. The duration can be easily selected from the app dashboard.

Legal & Compliance - Developers, digital marketing agencies, and users can use this feature to retrieve historical data streams for legal and compliance purposes.
Want to know more? Contact us today to connect with one of our representatives.